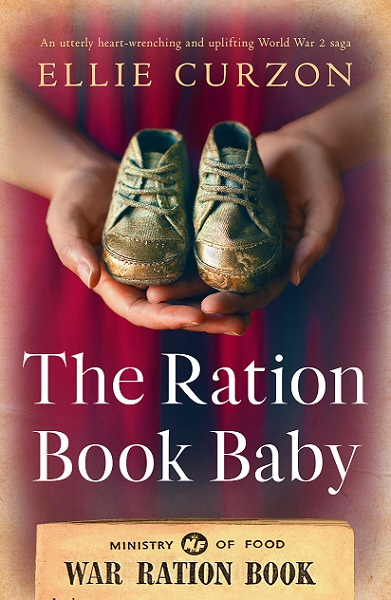 It's publication day for The Ration Book Baby! We're thrilled to share the story of Annie and William, and the ration book baby, with you!
Buy now in ebook and paperback, and it's on Audible and Kindle Unlimited too!
England, 1940. Opening the box with trembling hands, she couldn't believe it – a tiny baby lay inside. She gently lifted the newborn as it started to cry. Cradling the little one to her chest, she searched the darkness for any sign of whoever left it here. And as she rocked the child, something fluttered to the ground… a ration book.
Nurse Annie Russell anxiously listens to the terrifying sounds of planes and gunfire overhead, worried about what the morning will bring for the patients in her care. The boys from the local airfield fly up in the skies each night, risking their lives to protect the people of Bramble Heath village, but they can't stop every bombshell. Until a knock at the door makes her jump.
Awaiting Annie on the doorstep is a hatbox. Peeking under the lid, she gasps – inside is a whimpering newborn, round cheeks glistening with tears. The poor little thing may be all alone, but someone must truly love the baby… Tucked into a hand-knitted blanket, there's a precious ration book, vital for food supplies in these darkest of days.
Her heart breaking, Anniedoes everything she can to care for her tiny charge. But, without a ration book, she knows that the frightened young mother could also be in dire need of help too. Then social services bring devastating news. If Annie can't find the helpless child's family soon, the authorities will have to take the little one away.
As the Nazi threat grows, more and more of the brave pilots at the local airbase don't come home. Is one of the fallen the child's father? And with her only clue leading nowhere, can Annie find the answers she needs, and reunite the innocent baby with its parents before it is too late?
A totally unputdownable and emotional historical novel that will have you reading late into the night. Perfect for fans of Diney Costeloe, Martha Hall Kelly and Before We Were Yours.
What readers are saying about Ellie Curzon
'Must-read… Wow and wow… The twist and turns in the story will come as a surprise and keep you hooked… Loved it.' Goodreads reviewer, 5 stars
'Writing at its absolute best. A thoroughly enjoyable read… Beautiful… A lovely romance and an amazing ending – what's not to love… It was so good and I wanted it to go on forever. 5 stars? Worth so many more.' Goodreads reviewer, 5 stars
'A rip-roaringly good read… I thoroughly enjoyed it… I'd love to see this as a film or TV drama… Absolutely spiffing. Highly recommended. Goodreads reviewer, 5 stars
'"Awwww" moments that hit me with the "feels"… I would hugely recommend this.' Goodreads reviewer, 5 stars
'Brilliant read… Marvellous… Couldn't put the book down!' Goodreads reviewer, 5 stars
'I read this in two sittings. A great insight into what life was like during those dark days of the war… Warmed my heart.' Goodreads reviewer
'A page-turner. I found it hard to put down… Was sorry it had to end.' Goodreads reviewer, 5 stars
'I was hooked from page one… A can't-put-down book… I'd highly recommend.' Goodreads reviewer, 5 stars
'Brilliant… A lovely heart-warming saga.' Goodreads reviewer