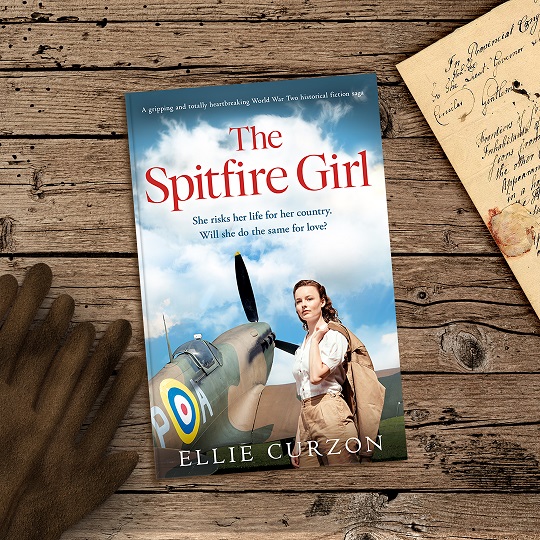 The Spitfire Girl: published 27th September 2023 by Bookouture. Available in ebook, paperback, and Audible.
England, 1941. 'I'm sorry. Freddy's plane went down.' Her knees buckle. 'No,' she whispers. But the next words break through her despair. 'There is a chance we can rescue him. And you are the only one who can.' She didn't wait to answer. She would do anything to get Freddy home.
Sally has always been happiest flying her stunt plane, thrilling audiences across the world, with her oldest friend and dearest love Freddy. Until the war tears everything apart.
When she is approached by the Ministry of Defence, Sally jumps at the chance to be part of a classified project. Seeing the new, improved Spitfire plane, her jaw drops. She's been chosen to run test flights and get it battle ready. This could turn the tide of war. But she can't tell a soul, not even Freddy.
Even though she's making sure the plane is safe for Royal Air Force pilots like her darling Freddy, her heart breaks as the secret weighs on their relationship. And as she tries to close the distance between them, disaster strikes. Freddy has been lost over Nazi-occupied France. And he was in the top-secret Spitfire.
Stunned, Sally can't believe he took the plane on its first mission. But with Nazis on the hunt, time is running out. Sally must risk everything to stop the plane from falling into enemy hands and rescue her beloved Freddy. Will she find Freddy and bring him safely back to Bramble Heath, or will they be parted forever?
A totally unputdownable and emotional historical novel, perfect for fans of Diney Costeloe, Nadine Dorries and Rosie Clarke.
What readers are saying about Ellie Curzon
'Must-read… Wow and wow… The twists and turns in the story will come as a surprise and keep you hooked… Loved it.' Goodreads reviewer, 5 stars
'Writing at its absolute best. A thoroughly enjoyable read… Beautiful… A lovely romance and an amazing ending – what's not to love… It was so good and I wanted it to go on forever. 5 stars? Worth so many more.' Goodreads reviewer, 5 stars
'A rip-roaringly good read… I thoroughly enjoyed it… I'd love to see this as a film or TV drama… Absolutely spiffing. Highly recommended.' Goodreads reviewer, 5 stars
'"Awwww" moments that hit me with the "feels"… I would hugely recommend this.' Goodreads reviewer, 5 stars
'Brilliant read… Marvellous… Couldn't put the book down!' Goodreads reviewer, 5 stars
'I read this in two sittings. A great insight into what life was like during those dark days of the war… Warmed my heart.' Goodreads reviewer
'A page-turner. I found it hard to put down… Was sorry it had to end.' Goodreads reviewer, 5 stars
'I was hooked from page one… A can't-put-down book… I'd highly recommend.' Goodreads reviewer, 5 stars
'Brilliant… A lovely heart-warming saga.' Goodreads reviewer